Modernization of energy system in the "A" buildings of the National Library at al. Niepodległości 213 in Warsaw
The main building of the National Library is meant to be a place inviting to visit, inspiring and meeting the expectations of the modern world. To reflect all these, it should be environment friendly, too. That is why the project of modernization of the energy system has been created. Within the project, several actions related to insulation, ventilation and lighting systems will be carried out and thanks to that the consumption of energy in the Library facilities will decrease while the amount of pollution emitted to the atmosphere will become lower.
It will result in better quality of ambient air, consequently, better conditions of using the Library infrastructure by the visitors as well as employees. In the long run, the aesthetics of the surroundings will improve and the environmental conditions will be better for the health of the local community.
The estimated total cost of the project is 9 550 418,22 zł, while the subsidy of the European Union Funds is assumed in the amount of 3 454 332,58 zł.
Project News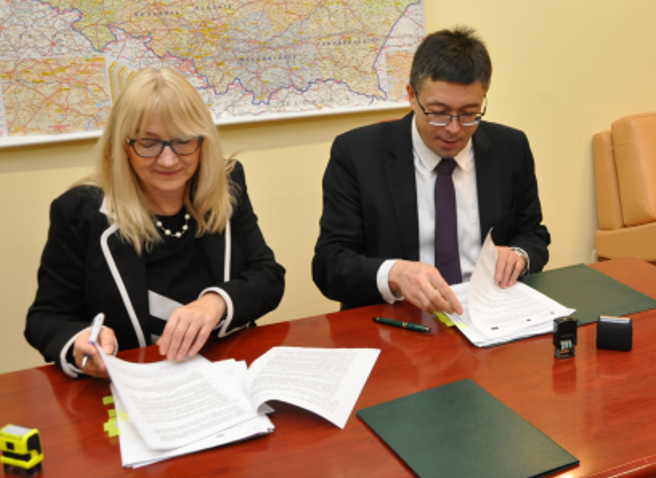 December 2016
The National Library has obtained the funds for the modernization of energy system in the "A" buildings at al. Niepodległości 213 in Warsaw.
The grant agreement for the project has been concluded between the National Library and the National Fund for Environmental Protection and Water Management.
Thanks to the subsidy it's beneficiary will conduct the construction works due to modernize the system of ventilation. The main goal of the project is to reduce emissions and increase energy efficiency by using renewable energy sources.
These actions support the idea of protection of the environment by implementing the energy efficient solutions and smart energy management in public infrastructure. The actions will also result in reducing greenhouse gas emissions.
The project will be implemented within the frames of action 1.3.1 of priority axis I "Low-emission economy" of the Operational Programme Infrastructure and Environment 2014-2020.
The agreement has been signed by Grażyna Spiechowicz-Kristensen, Deputy Director of the National Library and Artur Szymon Michalski, Vice-president of the Management Board.
___________